INDUSTRIAL HEAT
EXCHANGERS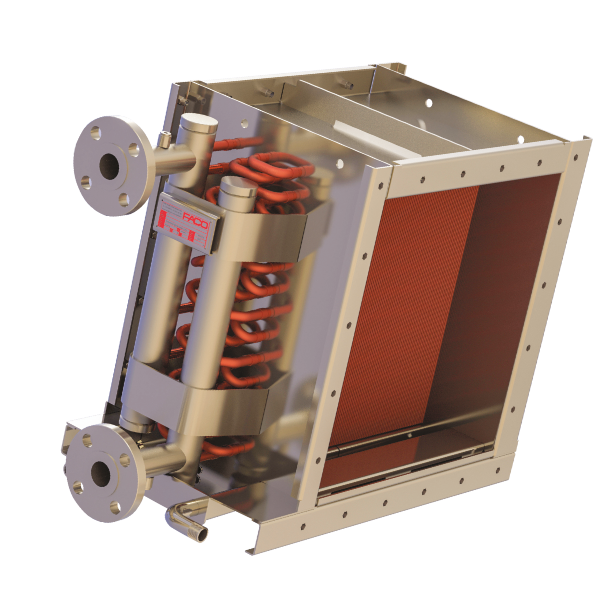 The ability to engineer fully customized solutions, together with the wide range of available materials, makes FACO heat exchangers suitable for any working condition, satisfying any requirement of resistance to aggressive environments, of seismic-proof and shock-proof structures.
They are therefore appropriate for the most demanding fields, such as naval, military, oil and gas, gas compression, offshore, power generation, nuclear, waste heat recovery, pulp & paper, textile, chemical, steel & heavy industry, food storage & processing, drying, cleanrooms, datacenters, etc.
Our range of products for industrial applications includes customized heat exchangers:
Air/gas to water heaters/coolers
Air/gas to oil heaters/coolers
Air preheaters
Air dryers
Steam coils
Superheated water/steam generators
Heat recovery units Economizers
Standard heat exchangers typically consist of multiple rows and circuits with pipe headers and return bends, often provided with header enclosures to protect pipe headers and bend sides.
Some special executions are available:
Cleanable tube plugs on tube ends that allow access to the interior of the coil for cleaning
Tubesheets with removable headers where mechanical cleaning of complete tubeside is needed
Safety double-tube heat exchangers to prevent contamination between fluids"
Air-tight design to avoid air/gas leaking
Bare tube design for high temperature and/or polluted air/gas
Multiple sections coils for easy installation and replacement of wide surfaces
Reinforced seismic-proof/antishock design for special applications (e.g. nuclear, military, navy, etc.)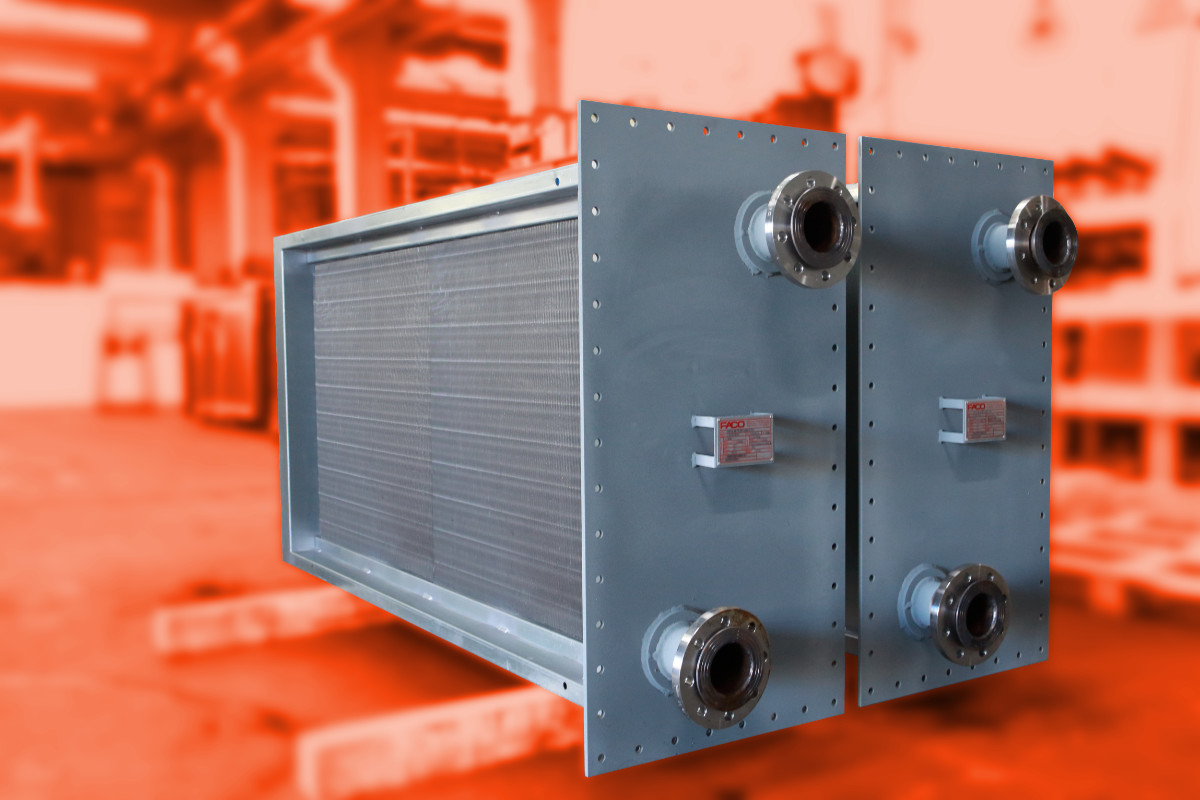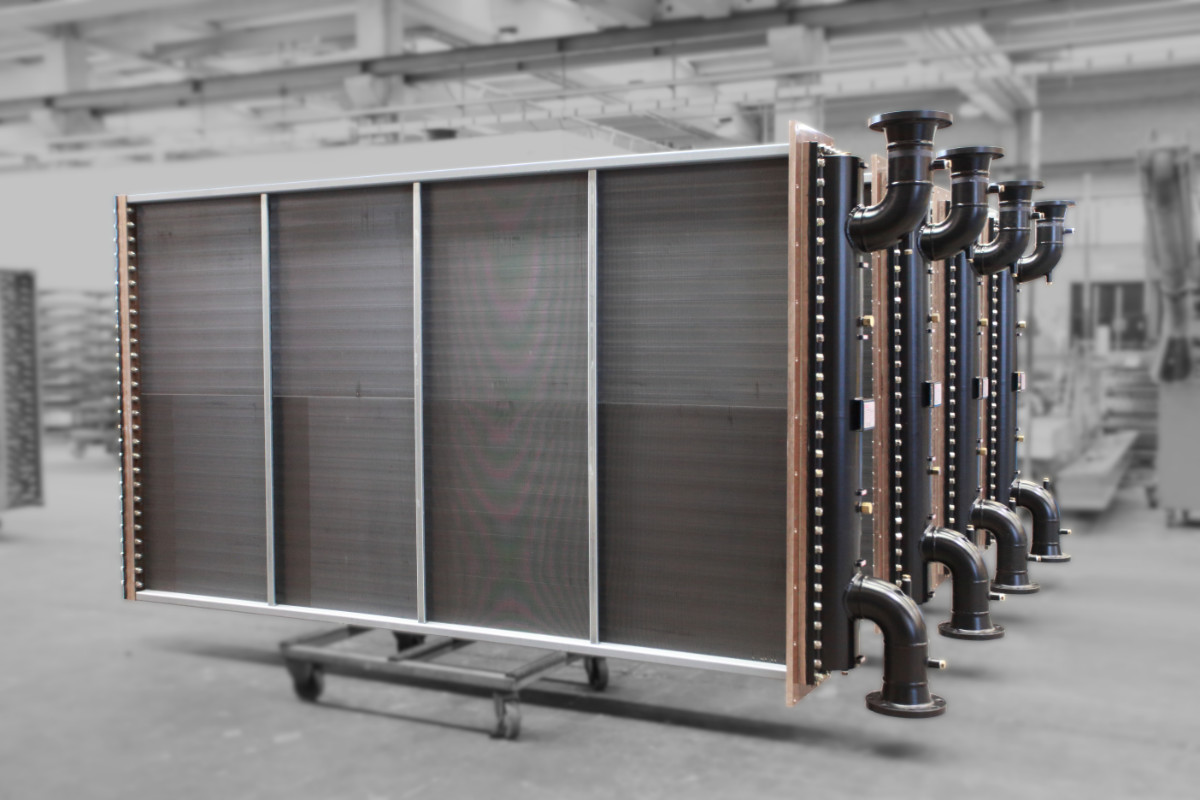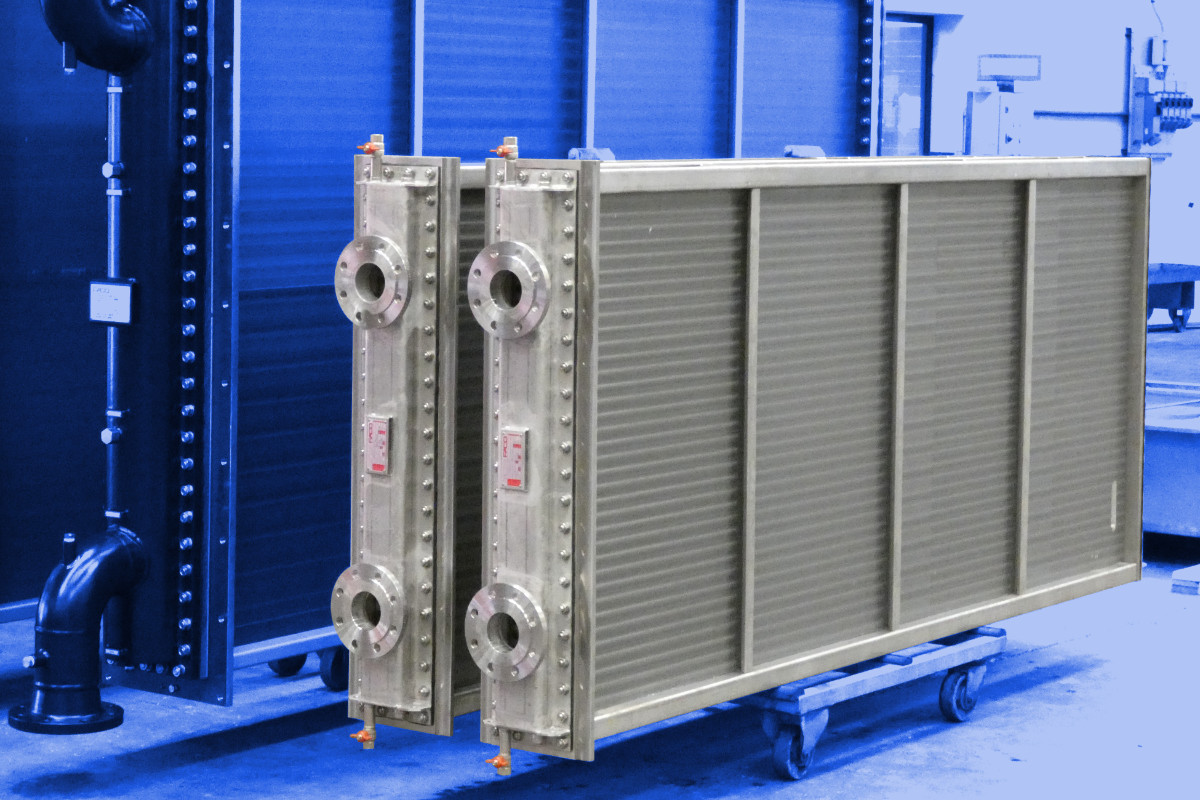 Equipped with bolted removable headers or tubular collectors and plug-equipped nipples, cleanable heat exchangers allow the inspection and eventual cleaning of each tube. These coils are suitable for fluids that can contain polluting elements such mud, weeds, microorganisms, lime, etc.
Water-box heat exchangers are mainly used for the cooling of electric motors and generators or as oil-coolers for big electrical transformers.
Wide choice of materials and protective coatings for installations within heavy-duty environments.
Designed to prevent any possible contamination from any leaks in the tubes – as for cooling of electric machines – the double-tube solution guarantees improved safety. Every tube of the exchange bundle is made up of two coaxial tubes that, by mean of helical channels between the two, allow to safely collect and convey any leakage to a chamber where can be detected to activate a warning system.

Industrial coil with some types of air-tight housing or frame designed to prevent environmental contamination during heat transfer. Our housings are constructed from heavy gauge materials that are selected for suitability in their specific application.
Air-tight finned-block economizers are used for solvent recovery, heat-recovery from exhaust gases of boilers, internal combustion engines and gas turbines, with production of heated or superheated water, generation of steam or heating of diathermic oil. Wide range of manufacturing materials to withstand operations at high temperature and pressure, and aggressive environments as well.
Bare tube construction for applications where using fins could cause severe clogging or where high temperature are required, as in pulp & paper, power generation and waste heat recovery applications.
Bare-tube economizers are used for heat-recovery from exhaust gases of boilers, internal combustion engines and gas turbines, with production of heated or superheated water, generation of steam or heating of diathermic oil. Wide range of manufacturing materials to withstand operations at high temperature and pressure, and aggressive environments as well.
Seismic-proof/Antishock design
Seismic proof/antishock design for applications where robust construction is needed, as navy, military or nuclear applications.
We are committed to supplying safety related items that satisfy the special demands of the nuclear power industry.
FACO is certified according to AFCEN's RCC-M code, concerning the mechanical components designed and manufactured for pressurised water reactors (PWR).
Finned block is composed of tubes mechanically expanded into self-spacing collars die-formed on the fins, which have a waved profile studied in FACO's research laboratory, with the aim at the efficiency of the heat exchanger to get the best cost/performance ratio.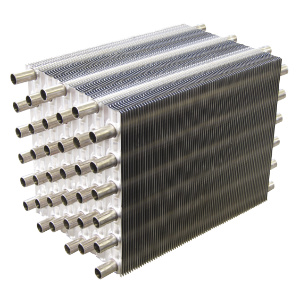 Accessories and special features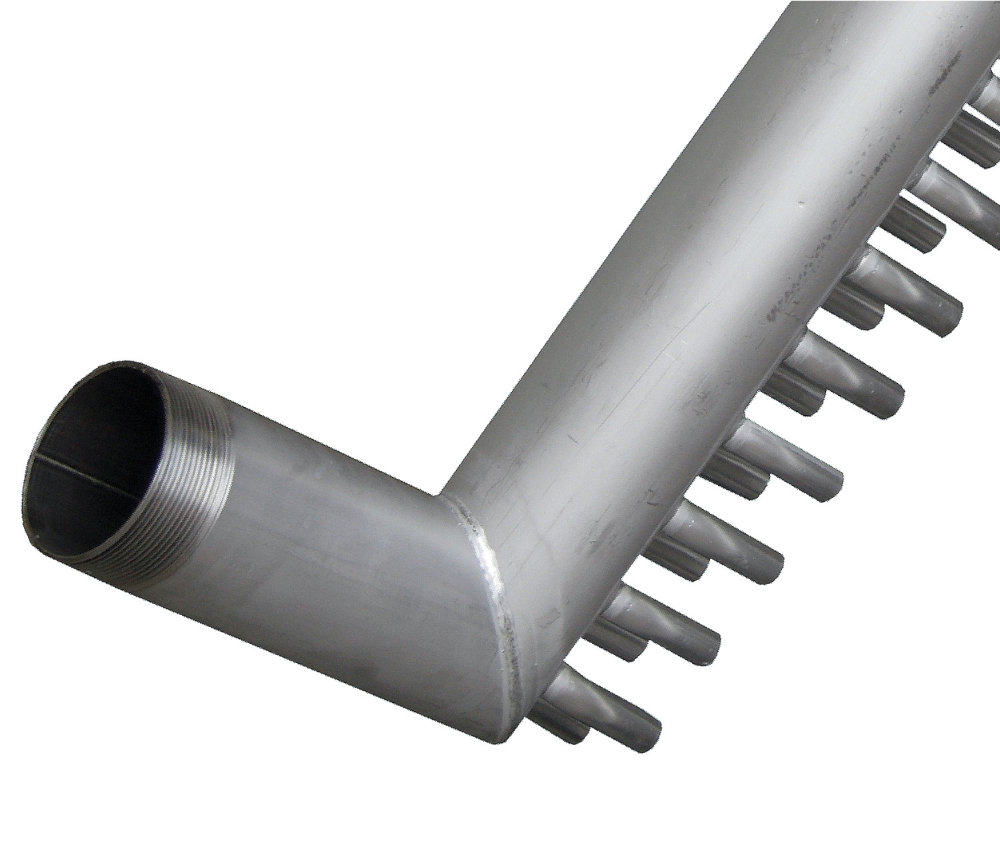 Materials, arrangement and connection side can be combined according to customer request. Connections are equipped with standard joints such as flanges or threads, or any other type of special connection if required. Drain and vent plugs are supplied as standard.
Materials: carbon steel, stainless steel, copper, cupronickel, aluminium.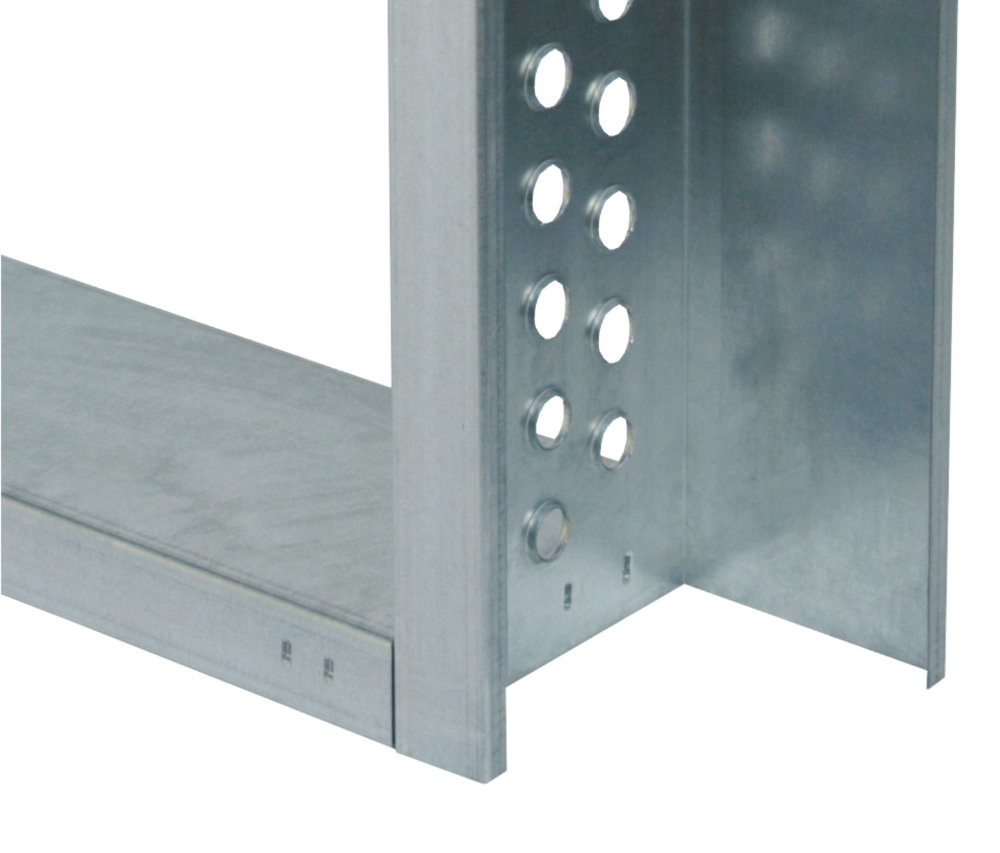 Sized according to the dimensions specified by the client, it can be delivered with integrated drip trays and drop eliminators. Closing plates and special profiles can be supplied for a better integration of the heat exchanger in the plant.
Materials: galvanized steel, carbon steel, stainless steel, aluminium, copper.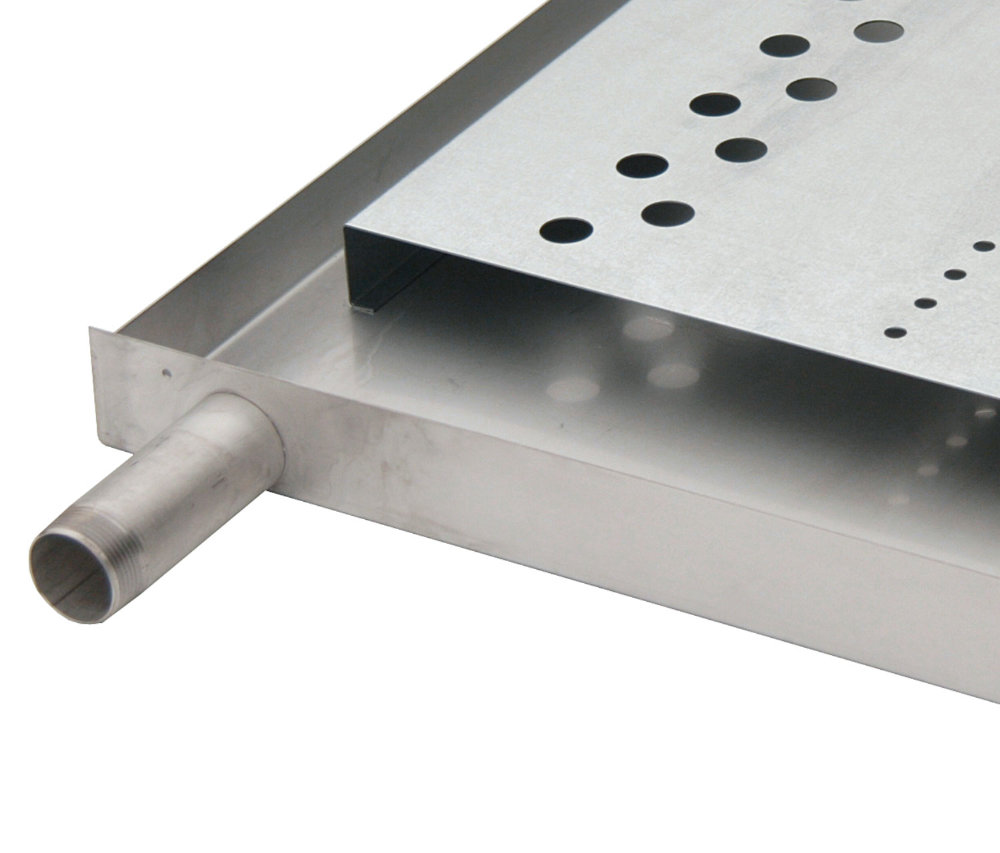 Installed or integrated in the lower part of the exchangers, or even at an intermediate height, they are available for duct mounting or for installation inside units. The position of the condensate drain connections can be defined according to customer request. They are available also in an airtight version, for duct mounting.
Materials: galvanized steel, stainless steel, aluminium, copper.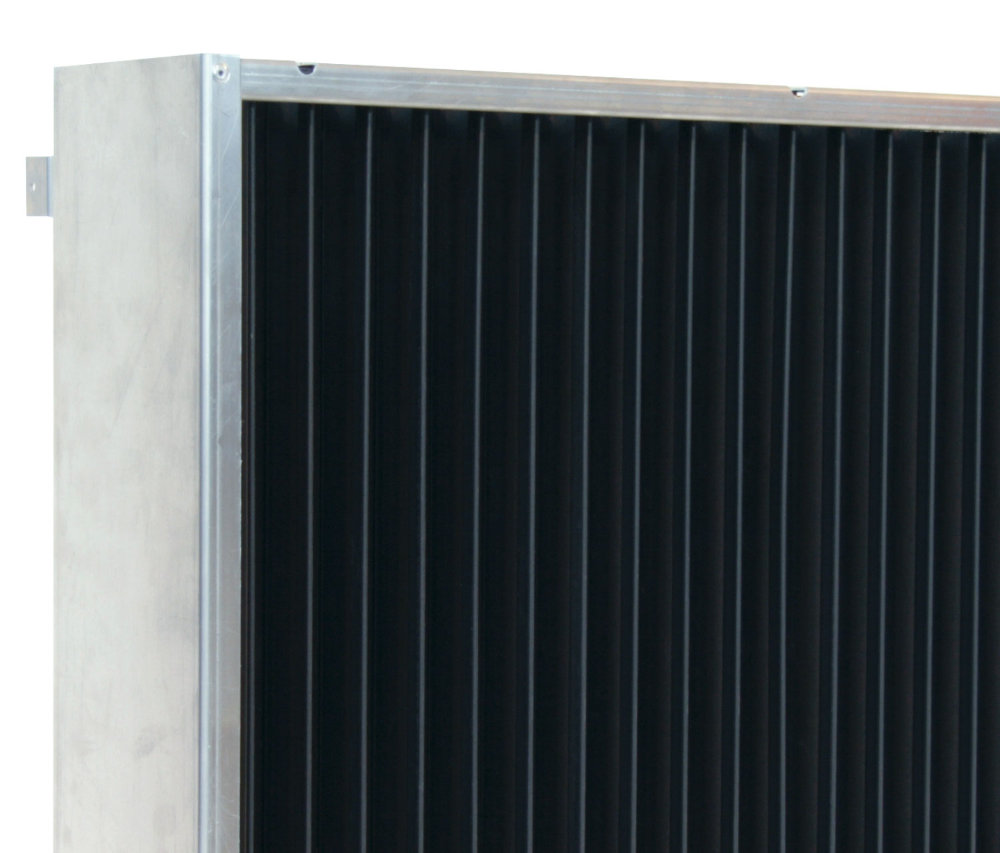 Installed to avoid condensate carry-over in case of high speed of air in connection with dehumidification, they can be supplied in various materials according to working conditions.
Materials: PPTV, aluminium, stainless steel.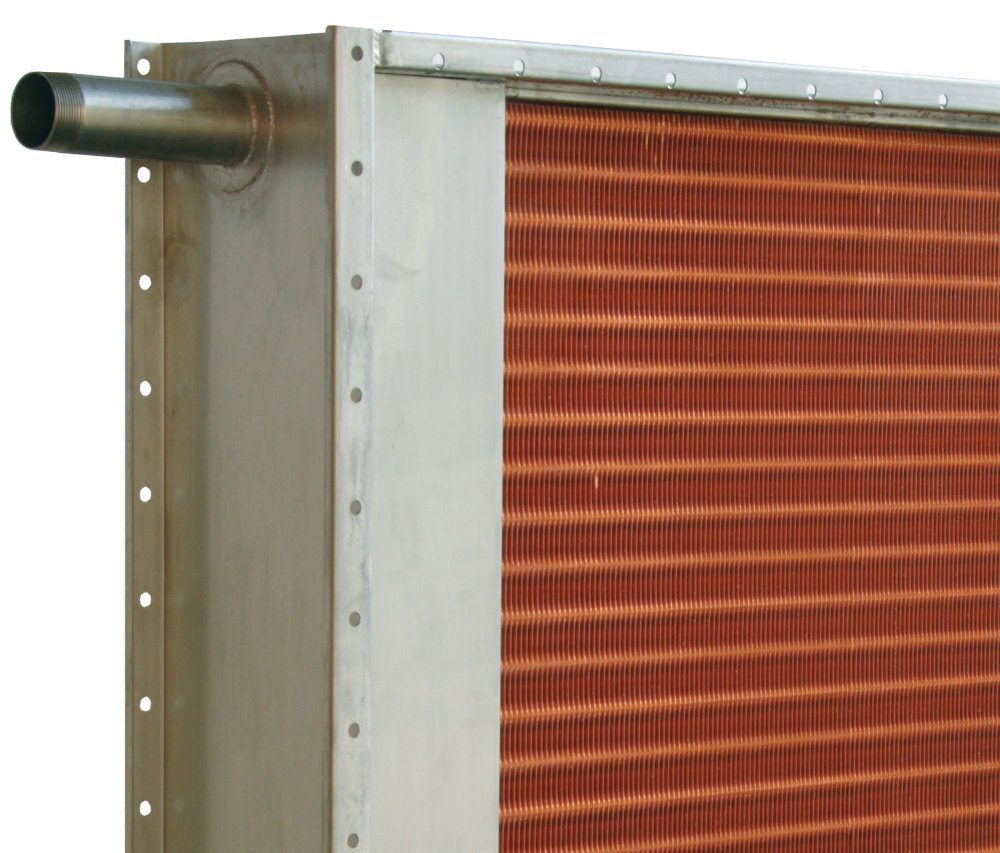 When it is necessary to isolate the flow through the fins from the external ambient, solutions with various grades of tightness can be adopted, that range from a simple sealing of the passages connecting the duct with the ambient, to a fully welded airtight construction.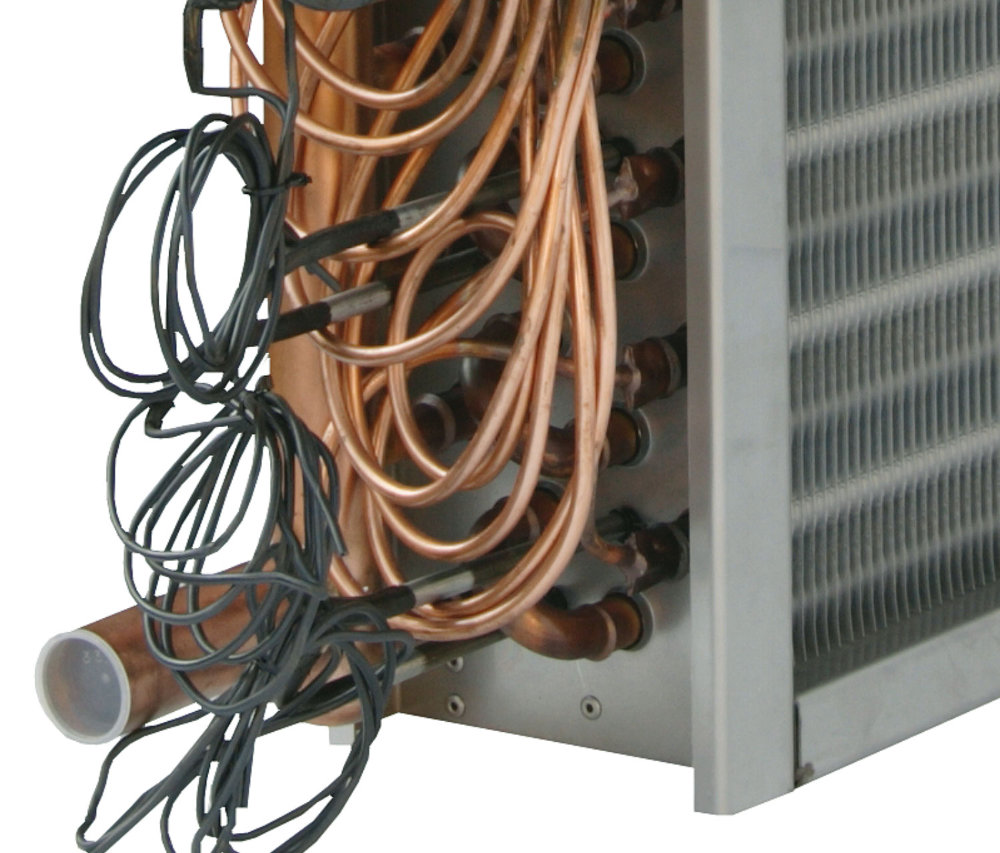 In refrigeration treatments or wherever frost formation on the finned block is foreseen, the exchanger can be equipped with defrosting systems such as electrical heating rods and hot water rain or spray devices; evaporators can be delivered with a hot gas defrosting system.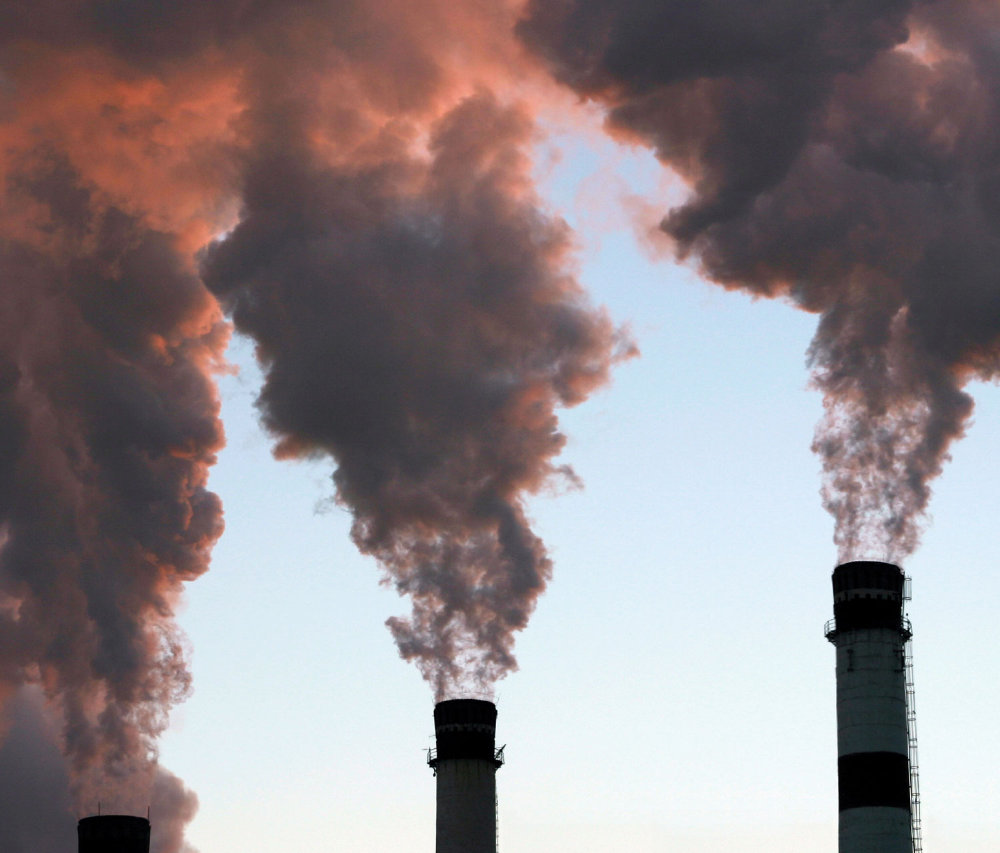 Particular environmental and operational conditions may require stronger protection both for the exchange surfaces and the structures. The right combination of base material and coating can guarantee the exchanger's reliability and longevity, even in aggressive environments.
Surface treatments: tinning – polyurethane paint – hot dip galvanizing – cataphoresis – Heresite® – Rilsan® – Blygold® – Fin Guard Silver®.
Design and certifications
FACO operates on a ISO 9001:2015 certified quality management system. The thermo-dynamic design is carried out with the assistance of a in-house-developed software, based on parameters measured in the Company's thermo-dynamic testing laboratory, built in accordance with ASHRAE standards. FACO holds the AHRI certification for the performance of the water exchangers. Conformity to CE directives in force is verified for all the production.
The structural calculation can be carried out according to the ASME VIII div.1 code, or in accordance with other codes on request. FACO has welding and brazing procedures and operators qualified to ASME IX and EN 9606, EN 15614, EN 13585, EN 13134 available.
Heat exchangers can be designed and manufactured in anti-seismic or shockproof execution. Design and manufacturing of ASME BPVC "U" designator certified products.
ISO 9001 certified QMS
Design according to ASME VIII div.1, EN 13445
Nuclear applications design according to RCC-M
PED Modules H/H1, up to Cat. IV equipment
ASME BPVC "U" designator certificate
CRN certification
UL/CSA compliance
ATEX certification
AHRI Std. 410 Performance certification
Welding/Brazing ASME IX and EN 9606, EN 15614, EN 13585, EN 13134
NDT operators EN ISO 9712, SNT-TC-1A, ASME V
Zero Emission Electricity & Natural Gas EN 14064 certification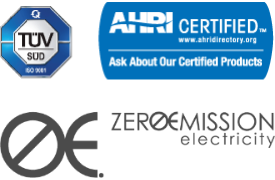 If you want more information about our services, fill out the form below,
we will replay as soon as possible
Address
Via SS. Trinità, 16A
28040 Varallo Pombia (NO)
Italy